Series: All Audio Books | The Evaran Chronicles | The Earthborn
The Evaran Chronicles is a science fiction series that follows the adventures of the traveler Evaran. He travels through space, time, and other realities via his ship: the Torvatta. Accompanying him is his trusty flying orb named V. Evaran also travels with humans, such as Dr. Albert Snowden and his niece, Emily, and Jake Melkins. Themes explored include time travel, space exploration, parallel worlds, the multiverse, the planeverse, dimensional realms, aliens, alternate history, technology, non-humans on Earth and beyond, and what-if scenarios.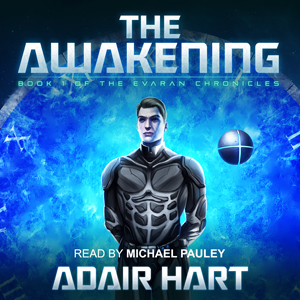 THE AWAKENING
Book 1 of the Evaran Chronicles
First Edition: December 7, 2015
Second Edition: June 12, 2019
The Earthborn is a completed six book vampire space opera that follows the adventures of Blake Brown, a four hundred years plus vampire. The series is set in Fredorian space in the year 2032. Fredoria may sound familiar to those who have read the Evaran Chronicles as The Earthborn is the first spinoff series. It is set approximately twenty years after The Fredorian Destiny, Book 2 of the Evaran Chronicles. Andia Kiggs and Rakar Ho Jador and other familiar names are in the series.

It is a darker series, with more violence, language, some fade to black, and grittier in tone. Galactic politics and factions are dived into with great detail. It is a group based series as well. Although Blake Brown is the lead character, he has a cast of Earthborn around him that would make Earth proud. Blake will show the galactic region around Earth how Earthborn handle business!