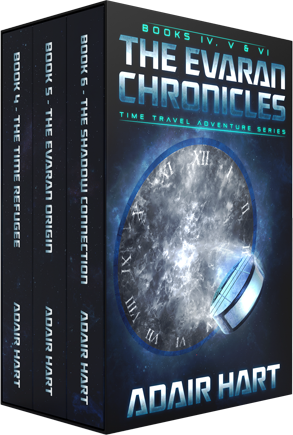 Title: The Evaran Chronicles Box Set: Books 4-6
Series: The Evaran Chronicles
Book #: 4-6
Publisher: Quantum Edge Publishing
Published: September 23, 2018
Formats:
eBook
The Evaran Chronicles Box Set: Books 4-6
Books 4-6 Of The Evaran Chronicles
Not everything is what it appears to be.
Dr. Albert Snowden and his niece, Emily, continue their space-and-time-traveling adventures with Evaran and V. From the far reaches of Roeth, to a parallel universe, and then back to Earth, Evaran and crew try to maintain timeline integrity while dealing with the challenges that brings.
---
Major Retailers: Amazon - US | Apple | Kobo | Google Play | Barnes and Noble | Smashwords | Scribd | 24 Symbols
Amazon stores: Australia | Brazil | Canada | Estonia | France | Germany | India | Italy | Japan | Mexico | Netherlands | United Kingdom
---
This box set contains the fourth, fifth, and sixth books in the Evaran Chronicles. It covers the second half of the first series arc, and the second series arc opener.